THE NEW 2020 HYUNDAI SONATA WINS BEST CAR BUY AWARD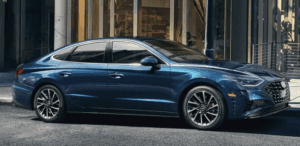 The new 2020 Hyundai Sonata is starting out the new year as a winner already. Thanks to its innovative style, advanced technology, comfort, safety and overall excellence, the 2020 Hyundai Sonata recently earned the coveted 2019 Best Family Car Award from the independent auto information web source Driving Today. Innovative, award-winning quality is all bundled in the all-new 2020 Hyundai Sonata, the best in its class. Read on for more about the new award earned by the 2020 Hyundai Sonata.
BEST CAR BUY AWARD: Driving Today is an independent, third party information web source for new or pre-owned vehicle shoppers, publishing car reviews, buyers' guides, top-ten lists, other automotive-related content. The Driving Today Best Car Buy Awards designate the year's best car values in vital vehicle categories, and are especially focussed on new and redesigned vehicles which offer the most advanced technology. Vehicles are judged on factors customers deem important including safety, reliability, quality, comfort, convenience, fuel economy, and cost to own. 
ONE OF HYUNDAI'S FINEST: The all-new 2020 Hyundai Sonata is hands down, one of the finest mid-size sedans on the road today.  "We're honored to receive Driving Today's Best Buy Awards," said Scott Margason, Director of Product Planning for Hyundai Motor America. "The 2020 Hyundai Sonata was specifically designed with families in mind, and these awards serve as proof of Hyundai's commitment to building a product lineup focused on making the time families spend together better."
OVERALL ADVANCED DESIGN: A unique and innovative vehicle from the ground up, the all-new 2020 Hyundai Sonata is the first model to be structured on Hyundai's innovative new vehicle platform. The extensive application of advanced technology throughout the vehicle, including safety features and efficient fuel economy, puts the new 2020 Hyundai Sonata truly ahead of every other vehicle in its class. The 2020 Sonata is also the first to display Hyundai's bold and athletic exterior design language, for a look that is as striking as it is innovative. 
For its innovative style and advanced technology, the new 2020 Hyundai Sonata earned the 2019 Best Family Car Award from Driving Today, wowing the critics with a winning mix of design, engineering, safety and comfort. Now let the 2020 Hyundai Sonata win you over. Come by Crain Hyundai of Conway, Arkansas and experience one of the best sedans on the market today. Hope to see you soon!