THE 2020 HYUNDAI VELOSTER AND VELOSTER TURBO OFFERS MORE STANDARD EQUIPMENT AND ENHANCED EXTERIOR DESIGN
The Hyundai Veloster has been a popular model among Hyundai lovers since its introduction to the market, and for 2020, Hyundai makes a great vehicle even better. The all-new 2020 Hyundai Veloster and 2020 Veloster Turbo offer more terrific standard equipment features, along with a sculpted exterior and more agile handling and performance. With the new 2020 Veloster, Hyundai is starting out the new year with genuine innovation and bold style. Let's take a look at some of the features that make the 2020 Veloster more attractive than ever.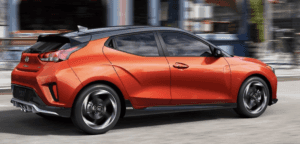 MORE STANDARD EQUIPMENT: The Hyundai Veloster has already established itself as the most versatile and capable model in its class, long a leader in utility and style, keeping ahead of the competition for years. The all-new 2020 Hyundai Veloster and 2020 Veloster Turbo raise the bar even higher, with more standard equipment added to make the 2020 Veloster models a must have for the contemporary, busy lifestyle of today's modern drivers. For the ultimate in safety, Blind-Spot Collision Warning with Rear Cross Traffic Warning features have been made standard on the Turbo R-Spec. Stay connected and charged-up thanks to Wireless Device Charging which also comes standard on Veloster Turbo and Veloster Turbo Ultimate models.  
NEW YEAR, NU ENGINE: For superior efficiency and lower emissions, the all-new 2020 Veloster is equipped with 2.0-liter NU Engine. The four-cylinder engine uses the Atkinson-cycle to achieve superior results, delivering up to 147 horsepower and maximum torque of 132 lbs-ft.  thanks to Dual Continuously Variable Valve Timing, an electronic throttle control with variable induction and innovative anti-friction coatings. Backing the 2.0-liter engine is either a six-speed manual or the optimal six-speed electronically-control automatic transmission. With the automatic, you have three driver-selectable modes: Normal, Sport and Smart. Loaded with next-generation materials, engineering and technology, the all-new 2020 Veloster's features top-notch fuel efficiency without the compromising power. 
ADVANCED SAFETY FEATURES: Hyundai has never taken shortcuts when it comes to safety features in their models. The new 2020 Veloster offers quite a bit of advanced safety features to give you a peace of mind when you're out on the road. The 2020 Veloster comes standard with Forward Collision-Avoidance Assist which detects imminent collision and avoid impact. In addition, you now have Lane Attention Warning, High-Beam Assist, and Lane Keeping Assist. New for 2020, these state-of-the-art safety features all come standard now, enhancing your  safety and confidence without adding a dime to your bottom line. 
Hyundai has made the all-new 2020 Hyundai Veloster and Veloster Turbo even more attractive for the new year, making a great vehicle even better. With more terrific standard equipment features, the all-new 2020 Hyundai Veloster and 2020 Veloster Turbo is a standout in its class. Do you want adventure, style and great fuel efficiency all in one stylish vehicle? Then come check out the all-new 2020 Veloster at Crain Hyundai of Conway, Arkansas! Take a test-drive and experience the latest in Hyundai innovation. Hope to see you here!