FIVE SCENIC LOCATIONS TO VISIT IN ARKANSAS THIS SPRING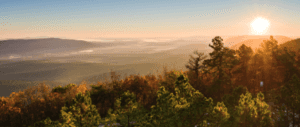 Who else is ready to leave winter behind and bask in the warm temperatures and sunlight of spring? At Crain Hyundai Conway, we love Arkansas in Springtime, and what better way to remedy Spring Fever than with an Arkansas road trip? There are numerous beautiful and scenic areas throughout the state to visit, all not too far away. From gorgeous waterways and waterfalls, to beautiful Ozarks vistas from majestic hilltops, Arkansas has it all! Here is a short list of the amazing places you should visit this spring in the Natural State. 
CEDAR CREEK TRAIL: Close to Conway is the awesome Cedar Creek Trail. Part of Petit Jean State Park and located close to Morrilton, Arkansas,  this 1.2-mile, moderately-trafficked loop trail begins at a historic log cabin before descending to a scenic section of Cedar Creek above Cedar Falls. The trail is primarily used for hiking, walking, nature trips, and birding and is accessible year-round. Dogs are also able to use this trail but must be kept on leash.
HOLLA BEND NATIONAL WILDLIFE REFUGE: Just west of Morrilton is Holla Bend National Wildlife Refuge located in Pope and Yell Counties, Arkansas. The refuge is along the Arkansas River five miles downstream from Dardanelle, Arkansas and spans 7,000 acres of farmland and bottomland hardwoods that provide habitat for endangered and threatened species, along with plentiful local wildlife. It is a great recreation spot for the public and is a welcome respite from our busy lives in the natural world.
MOUNT MAGAZINE: Who can forget about Mt. Magazine State Park located in Paris, Arkansas? The highest point in the state at 2,753 feet above sea level, Mt. Magazine provides commanding views of the Ouachita valley from the summit. There are a slew of outdoor activities to do at Mt. Magazine, including hiking, horseback riding, technical rock climbing, and ATV riding just to name a few. If you're more about the indoors, make reservations at the Lodge at Mount Magazine or one of the nearby cabins, and enjoy the fresh Ouachita air, relaxation, and the one-of-a-kind views. 
MIRROR LAKE TRAIL: If you're feeling adventurous and want a longer road trip into the beautiful Ozarks, head up to Mirror Lake near Mountain View, Arkansas. The Mirror Lake Trail is the first trail of the Blanchard Springs Recreation Area and is a 1.7 mile loop trail that features a lake and waterfall. There are a number of things to do at Mirror Lake, which is accessible year-round. Dogs are allowed on the trail but must be kept on a leash. Looking to do some fishing? Mirror lake is famous for its rainbow trout, so bring a fly-rod.
BUZZARD ROOST TRAIL: Another awesome hiking spot in the Ozark Mountains is the Buzzard Roost Trail, located near Dover, Arkansas. The trail is four miles out and back and leads to ancient sandstone bluffs feature deep crevices with caves large and small underneath. The moderate trails are mostly used for hiking and camping, and are accessible year-round.    
If you follow this list of wonderful and beautiful Arkansas locations, your springtime will be loaded with fun and great Arkansas adventure. To get off on the perfect start in the perfect vehicle, come visit your friends at Crain Hyundai in Conway, Arkansas. Test drive our latest Hyundai models and see which one will get you to your favorite destination this coming spring!