Autotrader Selects Hyundai For Two Best New Cars For 2020 Awards
Despite the COVID-19 pandemic, car shoppers have spoken and two of Hyundai's popular 2020 models were awarded Best New Cars For 2020 by the famous third-party car listing website Autotrader. The two Hyundai winners this year are the 2020 Hyundai Palisade and the 2020 Sonata.  The 2020 Palisade mid-size SUV took home the award for stepping up its game with a revitalized style and astonishing features. The 2020 Hyundai Sonata was also named for its quality as a strong class leader thanks to an overall redesign that knocked the socks off the competition. Hyundai has become a major influence on how a mid-size sedan should look, feel and drive, and the 2020 Sonata delivers a strong presence on the roadway. As for Hyundai's new mid-size SUV, the Hyundai Palisade is redefining the SUV with versatility and luxurious style.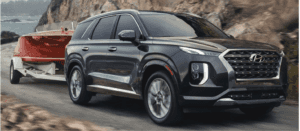 2020 HYUNDAI PALISADE: Striking a perfect balance between an affordable car and a premium luxury SUV, it's no wonder the 2020 Hyundai Palisade was awarded Best New Car for 2020, The 2020 Palisade has both a beautiful distinctive design yet it is comfortable and accommodating with third-row seating and all the comfort and technology you expect from a great SUV. As for safety and security, intelligent, passenger-friendly features were top priority, with an eye toward maximum versatility. Looking for a smooth, reliable, top-shelf powertrain? The 2020 Palisade packs a 3.8-liter V6 that delivers up to 291 horsepower. With the 2020 Palisade, great times with family just come with the territory.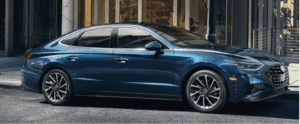 2020 HYUNDAI SONATA: Recognized as a class leader by Autotrader, the 2020 Hyundai Sonata claims that title with a stunning exterior redesign, a roomy, premium interior, and a generous list of amazing features. For example, if you dread getting in and out of tight spots when parking, that chore just got so much easier. Just press a button on your Smart Key and your Sonata can drive itself into a parking space, and pull out of one too, all thanks to Remote Smart Parking Assist! The powertrain is pretty amazing as well, the 2020 Sonata comes standard with a 2.5-liter four cylinder engine that can reach up to 200 horsepower. Yet it achieves fuel economy of 38 miles per gallon on the highway. The 2020 Hyundai Sonata is definitely a fun sedan to drive. 
Hyundai is becoming a major presence in the automobile industry and a popular choice among consumers. The 2020 Hyundai Palisade and 2020 Sonata are true testaments to that, with both models being awarded Best New Car for 2020 by Autotrader. Both are the result of careful and precise designs that Hyundai achieved by taking into account the customers' desire for a dependable yet elegant vehicle. See for yourself the great features and alluring qualities of the 2020 Hyundai Palisade and the 2020 Sonata. Contact Crain Hyundai of Conway and explore our available selection of 2020 Hyundai models. Hope to hear from you soon!